Elvis Costello: he's gone from being the "angriest man in music" to one of the busiest, collaborating with bigwigs, composing orchestral pieces, and continuing to rock like it's 1977. Now, with his credibility still intact, music's most restless troubadour stops to smell the roses with the rocket man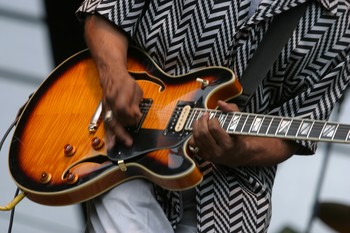 ELTON JOHN: You've always been the sort of artist who's willing to experiment and change your tune, from your rock "n' roll albums to your orchestral work and all your collaborations. But your new album, The Delivery Man [Lost Highway], really marks a return to the classic songwriting of records like Imperial Bedroom [1982], Blood & Chocolate [1986], and When I Was Cruel [2002]. How did you go about making it?

ELVIS COSTELLO: Well, the main thing to remember when you're making a rock 'n' roll record, and have made as many as you and I have, is to take yourself out of yourself. If you start becoming analytical, it turns into another kind of music. There is an element of spontaneity you need to be able to take yourself somewhere--either a place in your own head, or a physical place like Oxford, Mississippi, which is where we recorded The Delivery Man. I knew of a great studio there called Sweet Tea, because the rhythm section in my band, the Imposters, had worked there on this fantastic Buddy Guy record which was named after it [Sweet Tea, 2001]. Buddy made a lot of records in the years before he recorded at Sweet Tea that kind of stuck to a formula. But once I heard the album he did there, and how working at that studio liberated his playing, I wondered if that environment could do the same thing for me.

EJ: I was listening to that Buddy Guy record recently, and I have never heard a bass sound like the one on that album--it's just enormous. That sound comes through on The Delivery Man as well. Is there something about that studio?

EC: Both Davey Faragher, our bassist, and our drummer, Pete Thomas, really knew the studio well, so we were able to get that ferocious bass sound when it was appropriate. It obviously wouldn't work for a ballad like "Country Darkness," but on up-tempo tracks like "Button My Lip" or "Bedlam," it's great. Being American, Davey also has a different approach to rhythm. I think my old band, the Attractions, in its prime was as good as any rock 'n' roll band that ever came out of England. Like the Who and other great English bands of the time, it was a lot of people doing their own thing. But Americans tend to work differently, really supporting each other--The Band, of course, being the prime example, where everybody's playing a part that on its own would sound like nonsense, but together sounds like music, and everything is interlocking. So Davey added a lot of color to the songs, just doing the right thing all the time.

EJ: It's such a joy to hear Lucinda Williams hoot and holler on "There's a Story in Your Voice." She really rips it up.

EC: Lucinda famously reworks her own records and agonizes over them because she hears things in such an individual way. Her work isn't a dazzling flood of words; there's an incredible economy to her songwriting, so there's a huge amount of craft to her spontaneous side. For example, when we did the song "The Delivery Man," I said to her, "Look, you're portraying this woman Vivian [in the song] who comes around to her friend's house every day and tells a load of lies about her love life. She's actually a sad person, but she tries to make out that she's a wild woman. That's who you've got to be." She took on the character and really let loose. Emmylou Harris, who takes on the other character on "The Delivery Man"--this stoic woman who is trying to bring up her daughter in this righteous way, but is tortured all the time by her friend's intimations of Vivian's wild life--has a kind of gracious and dignified quality to her voice. So I couldn't have asked for better embodiments of the two characters.

EJ: The sound of the piano on "Country Darkness" reminds me of "Love Letters" by Ketty Lester because it's so incredibly rich, which is amazing since you recorded it using an upright, didn't you?

EC: Yeah, we did. We were a bit worried initially that we would miss having the richness of a grand piano. But once we got settled in, we started to love that piano. It's tiny, but when it comes in, it sounds like an orchestra because it has all these mad overtones, whereas a grand would be perfectly in tune.

EJ: A lot of those great old soul songs from the 1960s were recorded using upright pianos.

EC: They were. Things that we'd all figured were intentional were probably just them having to play around keys that were stuck. [both laugh] Somebody recently said to me that their favorite moment on The Delivery Man is when it sounds like someone has walked into the studio and started dusting the piano in the middle of the record--like someone has just bumped into it. [both laugh] Those are the kinds of things that people love about great records: There are mistakes left in, and there is character. I think an awful lot of the mystery has gone out of albums because they've become so pontifical. But it's the limitations that ultimately make the record.

EJ: With certain older records you can't even describe what it is that makes them sound so unique, whether it's the studio or the group of musicians. Those elements just had a way of working in conjunction with one another.

EC: Everything was crushed together in a way that was so interesting. People tie themselves up in knots trying to re-create the limitations of the past. But we didn't do that. We used as many of the modern advantages of recording as we felt were appropriate. We actually recorded two of the songs, "Either Side of the Same Town" and "The Judgement," on successive takes--both first takes. Interestingly, both those songs were also originally written for other singers. "The Judgement" was written for Solomon Burke--I actually got to be in the booth with him as he sang it, which was amazing to hear. "Either Side of the Same Town" was written for Howard Tate, the great soul singer. Howard did a record called Get It While You Can [1966], one of the unsung soul records of the 1960s, and had been out of the picture for nearly 30 years. But last year he came back and made another really terrific record [Rediscovered, 2003]. I met Jerry Ragavoy, Howard's producer, at one of Howard's shows, and Jerry invited me to visit them as they were finishing Rediscovered. After I heard Howard's voice in the studio, I went home and wrote "Either Side of the Same Town" in rough draft. Then Jerry made some changes to it, and we ended up making it a collaboration.

EJ: While we're on the subject of soul singers, I also hear a lot of James Carr on The Delivery Man--Carr, of course, being another underrated performer from that era.

EC: You know, we musicians can get a bit sentimental about our songs, and can be accused of trying to elevate ourselves to the status of people in whose league other ears may not put us. But I did put an acknowledgment on this record for some people who have been important to me as a listener. One of them is Dan Penn, the great songwriter whose songs James Carr made famous. "The Dark End of the Street," which Dan Penn wrote, is almost like the missing track from this record. Another is Hubert Sumlin, Howlin' Wolf's guitar player, who I've met on a few occasions. He is an absolutely sweet man whose daredevil approach to the guitar is something that I wish could match. And of course, there's James Carr. I don't know whether you want to go to the place he was living in his head--he was always quite a tortured character and not a happy story. But his records are so vivid because they don't sound morbid or self-pitying; they just sound really emotional.

EJ: The Delivery Man comes out the same day as another one of your records, Il Sogno [Deutsche Grammophon], which is an orchestral piece you did based on A Midsummer Night's Dream. Was that just a coincidence, or was it planned?

EC: I did plan to release two records this year. Inevitably, though, from a media point of view, you're going to get people playing one off against the other. It almost gets to the point where they're asking, "Which is the real you?" But, of course, they're both the real me because they both come from my imagination. I am making records for the people that want to listen. Putting out two albums on the same day was not a stunt or a trick; I've just turned 50, so it was just a great way to celebrate having arrived at an age which, at one time in my life, I would have not put such good odds on my reaching.

EJ: Earlier you mentioned collaborating, and in rock 'n" roll terms you've probably worked with more people from more areas of the music world than anyone else Paul McCartney, Butt Bacharach, the Brodsky Quartet, Anne Sofie von Otter, T-Bone Burnett, and the list goes on. You seem to have a real hunger for new challenges, constantly searching beyond the confines of rock 'n" roll and pop music to stretch yourself as an artist.