Highway 61 Revisited: the Tangled Roots of American Jazz, Blues, Rock and Country Music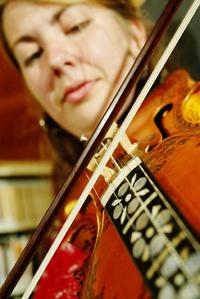 Highway 61 Revisited: The Tangled Roots of American Jazz, Blues, Rock and Country Music By Gene Santoro Oxford University Press (New York, NY), 2004, ISBN 019154819, 336 pages, hbk., $30.00
While Gene Santoro primarily writes about jazz, Highway 61 Revisited is a book about the big picture, where the roots of various forms of American music intersect and intertwine. Santoro divides his book into five sections, covering a huge array of artists and styles from pioneers Louis Armstrong and Woody Guthrie to innovators like Miles Davis and Bob Dylan, up through the blues and folk revivals, the Gospel circuit and onto Willie Nelson, the Band, the Grateful Dead, Buffalo Springfield, Tom Waits and The Firesign Theatre. Finally, the last section, "Possible Futures" looks at Ken Burns' massive documentary Jazz, several of jazz's younger lions and tellingly ends with Ani DiFranco.
Many of the 29 chapters read as record reviews coupled with deep backgrounds on the artists and their milieus. Many of these chapters no doubt did appear as magazine pieces although the book does not cite which or where or when. Most important is the broad scope of the book's purviews, Santoro's wide ranging appreciation and passion for music other than his primary territory of jazz. Thus he writes incisively about concert events he attended--Dylan's return to the Newport Folk Festival in 2001, the Grateful Dead in New York's Thompson Square in June 1967, the Band at the Fillmore East in 1971, Springsteen in concert acoustically solo in 1996 and with his E Street Band in August 2002. He has a wonderful knack of capturing the mood, makeup and reactions of the audiences.
Santoro funnels his listening through a jazz ear that celebrates innovation and the artist's personal feel and contributions, the elements that keep music alive and fresh for creators and listeners alike. It is not exactly the way I listen, but I understand and appreciate his angle. In fact, exposure to Santoro's listening approach did a lot to freshen my ears in the midst of a cycle of writing my record reviews for this very issue of Sing Out!.
The key messages here are the values of learning where musics come from and to appreciate them on their own terms, to keep an open ear routed to an open mind, to keep the possibilities of the future open, to be accepting rather than excluding. And most of all to be aware that the bigger picture of musical genres is intertwined, not separate enclaves. Funny how those concepts apply so well to the larger world, too.