Hip-hop's finest: whether these artists' offerings hit platinum or not, their music is worth a million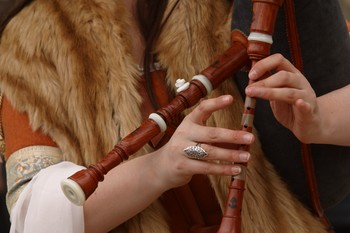 After 25 years, we still love hip-hop music. It's that classic boom-bap sound of the Golden Era. It's the lyrics that can entertain, portray street grit or teach us about ourselves. The emcees, deejays and producers featured here are driven by love of hip-hop culture rather than mere profit--you can tell from the musical chances they take. Our favorite artists have stayed true to rap's legacy.

Common's style has changed over the years but his lyrical skills have remained consistent. His work is packed with imaginative stories and consciousness; play a Common CD ten times--like last month's soulful BE (Geffen)--and on the eleventh spin you can hear something new.

Rapper-producer Missy Elliott mixes futuristic stutter-funk sounds with old-school sensibility. Her self-penned lyrics cover a spectrum of ideas--they're sexually provocative, playful, politically charged and pensive. She represents a multifaceted female voice largely missing from hip-hop. Her latest CD, The Cookbook (Atlantic), drops June 28.

The eight Oakland-based emcees of Hieroglyphics have stayed afloat for more than ten years trying to bring something different to the culture. True to form, their most recent disc, 2003's Full Circle (Red Urban), lays swift verbal wit against funky progressive beats.

Mystic should be better known--period. She's a beast on the mike, poetically balancing fearless social commentary with B-girl brashness on her 2001 album, Cuts for Luck and Scars for Freedom (Jcor). She's currently working on a long-awaited follow-up.

Nas relates tales of street life with sharp reflection and masterful flow on 1994's Illmatic, his legendary debut. Critics knock the rest of his catalog as subpar by comparison, but the intelligent, hard-line rhymes on last fall's Street's Disciple (Columbia) affirm his lyrical authority.

Showman Andre 3000 and the more gangsta Big Boi of Outkast were always eclectic, blending southern soul with fluid raps. On 2003's double CD, Speakerboxxx/The Love Below (LaFace), they rose to even funkier heights, earning a Grammy for Album of the Year.

The Roots introduced live instrumentation to hip-hop and get props for innovation alone. The Roots Present DVD, released earlier this year, highlights the group's famously kinetic live performance, anchored by jazzy rhythms, incisive rhymes and a handpicked roster of guest artists.

Kanye West sprang from behind the scenes with last year's Grammy-winning album The College Dropout. Forgoing the bling-and-sex formula, he brought melodic warmth and honest lyricism to rap's forefront. His sophomore effort, Late Registration (Roc-A-Fella), out July 12, serves up a similar brand of wit and originality.

RELATED ARTICLE: Old-school artists we still love.

De La Soul dropped The Grind Date (Sanctuary Urban) last October, 15 years after the group's influential 1989 debut. 3 Feet High and Rising. The trio is as cohesive and original as ever, equipped with fat beats and clever, forward-thinking lyrics that get better with each listen. * He's mostly known as the Fresh Prince's beat maker, but DJ Jazzy Jeff's turntable wizardry far surpasses his sidekick status. He mixes old-school hip-hop, silky soul and bumpin' house to the hard-hitting and seductive results found on last year's Hip Hop Forever II (BBE). * LL Cool J has survived mainly on the strength of classic singles--he doesn't deliver albums packed with stellar material. But you've got to hand it to him--he keeps pumping out the hits. Last summer's The DEFinition (Def Jam) contains his standard catchy lover's rap and club bangers.--C.G.